Get Service
We design SKIL tools to give you many years of use. If your product needs attention, we'll just need a few pieces of information from you in order to guide you to the best solution—and get you back to your next project.
Before You Contact SKIL
Here's what we'll need to know in order to help you (all of this information can be found on your SKIL tool):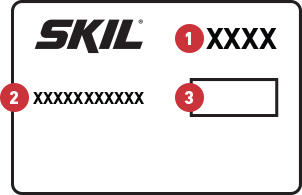 Model Number
10-Digit Production Number
Manufacturing Date Code
Note: The Label on your SKIL tool may look different, but will contain all the required information.

For service in Australia.
1300 017 545
Live support available Monday to Friday 9 AM to 5 PM AEST